People Behind the Disney Parks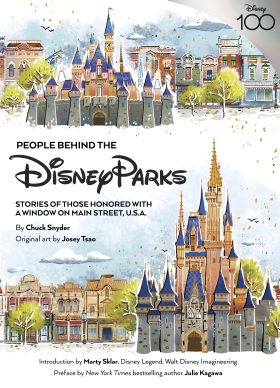 Meet the people who created Disney theme parks around the world!
Through rare Disney theme park concept art and photographs, this must-have collector's book showcases more than 280 biographies and features more than 50 pages on the evolution and behind-the-scenes of the Main Street, U.S.A. areas across the globe, up to and including the fairytale castles at the end of each street.
Keen observers will notice intricate details throughout the Disney parks, including names featured on building windows. In particular, the windows of structures lining Main Street, U.S.A. at Disneyland and the Magic Kingdom are designed as calling cards for fictionalized shopkeepers, business owners, and academy heads. These names belong to the real life "all-stars" who helped make Disney's theme parks a reality around the world. The people cited on these windows are skilled artists, business leaders, Imagineers, songwriters, and more. With their imagination and sharp skills, each person has made an important contribution to The Walt Disney Company.
People behind the Disney Parks is a gift that Disney collectors, theme park fans, and anyone curious about creative career paths through the arts and sciences will appreciate for decades to come.
Released

Pages

ISBN

Age Range