Critter Chat: World Wild Web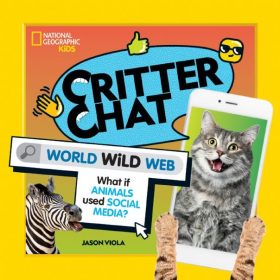 Critter chat is BACK with all-new imagined digital animal encounters-and it's all based on 100% true animal info. Inside you'll find a group chat for bears that is oddly lacking in real bear members. (No, the koala bear does NOT count.) Meanwhile, a group of stinky animals commiserates about how no one appreciates their unique fragrance, and a rooster greets the day with exuberant ALL CAPS. Among these silly conversations, you'll find tons of parody social media posts from all your favorite animals-and some you probably haven't heard of-including Instagram-style selfies (#WildStyle), meal reviews on animal Yelp, and profiles of critters looking for love on BeeHarmony. Plus, sprinkled throughout are fascinating nonfiction features that give you the scoop on the absolutely real ways that animals communicate, as well as bios of real-life animal influencers making a name for themselves online today.
This pun-packed nugget of fun will have readers learning all about the animal kingdom-without even realizing it. It's the perfect book for internet-savvy animal lovers, reluctant readers, and comedians young and old. For more fun and fact-filled animal books from National Geographic Kids, don't miss out on Critter Chat, Weird But True! Animals, Just Joking: Funny Animals, and Nerdlet: Animals!
Released

Pages

ISBN

Age Range