Kingdom Keepers Inheritance: Villains' Realm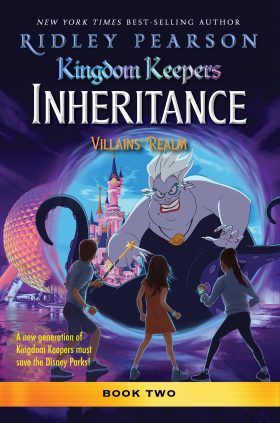 The second book in this all new KINGDOM KEEPERS INHERITANCE trilogy follows our young heroes to parks around the world as they work to stop the most villainous villain of all—Ursula—from taking over for good!
In this latest book in the series that has sold over a million copies worldwide, Ridley Pearson expands the Kingdom Keepers world in ways no reader—or Disney Parks fan—could have imagined.
Home from their adventures abroad in book one, Eli and his friends are safe and sound at Epcot with their families—or are they? When Eli learns that the CEO of the Walt Disney Company has mysteriously done a 180 and ordered Villains Realms to be built in every park across the globe, he and his friends know something is amiss. It turns out that Ursula, the baddest of the big bads, has recruited an evil chemist to recreate Walt's magical ink, which would allow the Villains to travel between parks and end Disney magic as we know it.
With the help of Cinderella's very own Fairy Godmother—the notorious FGM as she's known in this world—they set out to stop Ursula—jumping from Epcot to Disneyland to Disneyland Paris, where the ultimate battle between good and evil plays out. Will Eli and his friends prevail, or will the Villains finally have their way?
Released

Pages

ISBN

Age Range