Lost Legends: Diamond in the Rough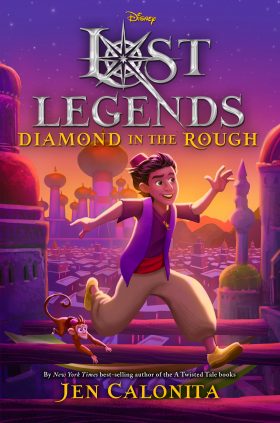 The second book in a new middle grade series that features the adventures of Disney's most lovable roguish heroes as kids!
Before he defeated Jafar…Aladdin was just a poor boy in streets of Agrabah. "Do you trust me?"
Twelve-year-old Aladdin has spent his entire life roaming the desert as a part of a tribe of nomads. He has nothing to his name except the stars in the sky, the clothes on his back, and a peculiar necklace left to him by his late mother. But that doesn't bother Aladdin—he doesn't want much. If he had three wishes, he would only ask for one thing: a home. A place to belong.
When Aladdin is separated from his tribe in Agrabah, he feels drawn to the city's bustling streets. This is a place of possibilities, one that Aladdin might even be able to call his own. Facing a whole new world with magic lurking around every corner, Aladdin soon joins a group of "collectors" who teach him what it means to be a street rat. Aladdin will need to put those skills and his good heart to the test when whispers of a mysterious "diamond" catch up with him and threaten to destroy his new home.
Filled with heart-pounding perils and rambunctious mischief, the Lost Legends series explores the untold origins of Disney's most infamous rogue boys.
Released

Pages

ISBN

Age Range