Star Wars: The Padawan Cookbook: Kid-Friendly Recipes from a Galaxy Far, Far Away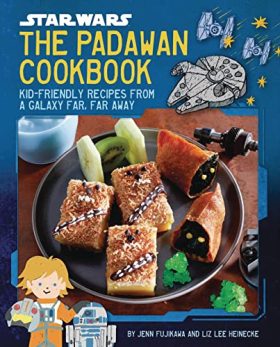 Show your little ones the ways of the Force, and the kitchen, with this cookbook filled with fun and delicious recipes for young Jedi!
Discover a galaxy of flavor with Star Wars: The Padawan Cookbook, the ultimate guide to cooking for kids! This fun cookbook is packed with a variety of Star Wars-inspired dishes that budding Jedi will love. Featuring full-color photography, this accessible cookbook is the perfect way to instill young Star Wars fans with a passion for cooking.
• COOK WITH YOUR PADAWAN: Just as Padawans must complete Jedi Trials as part of their training, so too will your budding chef master escalating levels of difficulty in this cookbook.
• 50 DELICIOUS RECIPES: With recipes such as Mudhorn Egg Noodles, Ahsoka's Jelly Cubes, and Bantha Milk Slushies, this cookbook combines the adventure of Star Wars with the delicious recipes of expert chef Jenn Fujikawa.
• TEACH CHILDREN THE SCIENCE OF COOKING: Featuring fascinating supplementary content covering physics, nutrition, and chemistry, children will become as immersed in the science of cooking as they are in the Star Wars galaxy.
• TRANSPORT YOUR KITCHEN TO A GALAXY FAR, FAR AWAY: Fans of Luke Skywalker, Ahsoka Tano, Chewbacca, Boba Fett, and more will love creating dishes inspired by Star Wars films, as well as live action and animated television shows.
• THE PERFECT ADDITION TO YOUR STAR WARS COLLECTION: Pair the recipes in Star Wars: The Padawan Cookbook with dishes from Insight Editions' line of Star Wars cookbooks, including Star Wars: The Life Day Cookbook, Star Wars: Galactic Baking, and Star Wars: Galaxy's Edge: The Official Black Spire Outpost Cookbook.
Released

Pages

ISBN

Age Range