Thor Quest: Hammers of the Gods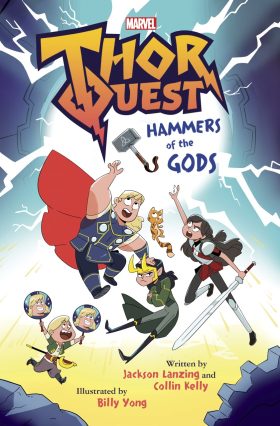 Everyone's favorite Asgardians are finally coming to the middle grade space with Thor Quest!
In this super-charged, super-fun, fast-paced adventure, Thor, Loki, Sif, and Fandral find themselves on an epic quest across the stars. In heavy illustrated pages and even the occasional comics panel, our heroes learn the value of friendship, the power of purpose and destiny, and the importance of teamwork and humility.
Jackson Lanzing and Collin Kelly lend their incomparable talent to this heavily illustrated series, bringing the adventure to life in electric, vivid detail that harnesses the infinite possibility of the kid Asgardians' universe.
Alongside elements that come from Norse mythology, this thrilling kids' story delves into Thor's world (or realm, if you will) in a fresh, new, exciting tale that'll readers won't be able to put down.
Perfect for fans of The Last Kids on Earth and Diary of a Wimpy Kid, Thor Quest is illustrated middle grade storytelling at its finest, featuring some of the most well-loved Marvel characters of all time.
Released

ISBN

Age Range

Illustrated By