This fall, celebrate strong women with two new books from Disney Hyperion!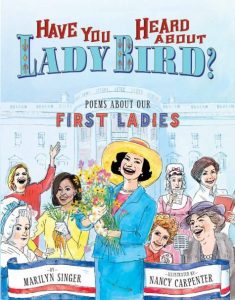 In this companion to Rutherford B, Who Was He?, Marilyn Singer puts the First Ladies center stage. With a poem for every First Lady, readers will learn how each woman embraced–or shied away from– a position in which she had little say. From First Ladies like Eleanor Roosevelt and Hillary Clinton, who were equally as involved in politics as their husbands, to First Ladies like Mamie Eisenhower and Dolley Madison, who embraced their roles as hostess and homemaker, to lesser known wives who were content to stay out of the spotlight, Have You Heard About Lady Bird? offers an informative look at the lives of these oft-overlooked women.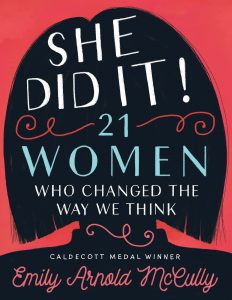 She Did It! is a collection of biographies celebrating 21 American women who played an important role in shaping the world we live in today. From pioneering journalist Ida Tarbell, to Shirley Chisholm, the first African American woman elected to Congress, this book offers a comprehensive look at some of the lesser-known trailblazing women of the 20th Century. She Did It! celebrates these women for their efforts and achievements in their respective fields, and in the overall fight for women's rights. Their stories will inspire modern girls to embrace their power to change the world, and continue to fight for respect, recognition, and equal treatment for all women.