Peter Pan & Wendy Junior Novelization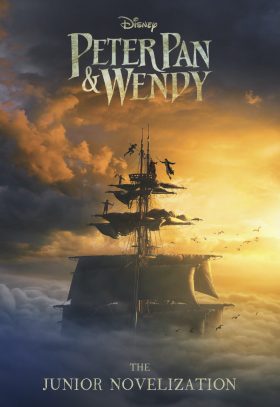 Fly away on a journey to Neverland with this novelization of the Walt Disney Studios live action film Peter Pan & Wendy, coming to Disney+.
Wendy Darling isn't sure she's ready to grow up. Growing up means no more nights in the nursery, sharing stories about the heroic Peter Pan with her younger brothers, John and Michael. Then, to Wendy's surprise, Peter Pan himself appears, alongside his fairy companion Tinker Bell–and the pair whisks the children off to Neverland, a magical place where no one has to grow up.
Once in Neverland, the children plunge headfirst into adventure, encountering Peter's rival, Captain Hook, and his dangerous pirate crew. But as they team up with Peter's loyal Lost Boys and the powerful Tiger Lily to match wits and swords with Hook, Wendy wonders if there is more to Peter's story–and growing up–than she first imagined . . . and if uncovering those secrets might be the key to saving Neverland and finding herself.
This thrilling novelization of Peter Pan & Wendy also includes a photo insert featuring images from the film!
Released

Pages

ISBN

Age Range