Serafina Boxed Set [3-Book Hardcover Boxed Set]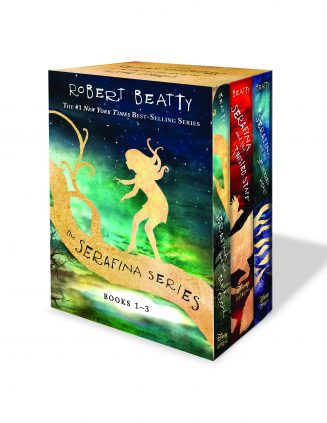 The #1 New York Times best-selling Serafina series by Robert Beatty is now available in a hardcover boxed set!
Serafina and the Black Cloak
"Never go into the deep parts of the forest, for there are many dangers there, and they will ensnare your soul." Serafina has never had a reason to disobey her pa and venture beyond the grounds of Biltmore Estate. There's plenty to explore in her grand home, although she must take care to never be seen. None of the rich folk upstairs know that Serafina exists; she and her pa, the estate's maintenance man, have secretly lived in the basement for as long as Serafina can remember. But when children at the estate start disappearing, only Serafina knows who the culprit is a terrifying man in a black cloak who stalks Biltmore's corridors at night. Following her own harrowing escape, Serafina risks everything by joining forces with Braeden Vanderbilt, the young nephew of Biltmore's owners. Braeden and Serafina must uncover the Man in the Black Cloak's true identity…before all of the children vanish one by one.
Serafina and the Twisted Staff
Serafina's defeat of the Man in the Black Cloak has brought her out of the shadows and into the daylight realm of her home, Biltmore Estate. Every night she visits her mother in the forest, eager to learn the ways of the catamount. But Serafina finds herself caught between her two worlds: she's too wild for Biltmore and too human to fully join her kin. When a mysterious series of attacks tests Serafina's role as Biltmore's protector, she finds herself torn from the side of her best friend and only ally, Braeden Vanderbilt. Heartbroken, she flees. Deep in the forest, Serafina comes face-to-face with the evil infecting Biltmore—and discovers its reach is far greater than she'd ever imagined. All the humans and creatures of the Blue Ridge Mountains are in terrible danger. For Serafina to defeat this new evil, she must search deep inside herself and embrace the destiny that has always awaited her.
Serafina and the Splintered Heart
The storms are coming…. Something has happened to Serafina. She has awoken into a darkness she does not understand, scarred from a terrible battle, only to find that life at Biltmore Estate has changed in unimaginable ways. Old friends do unthinkable things and enemies seem all around. A mysterious threat moves towards Biltmore, a force without a name, bringing with it violent storms and flooding that stand to uproot everything in its path. Serafina must uncover the truth about what has happened to her and find a way to harness her strange new powers before it's too late.
With only days to achieve the impossible, Serafina fights to reclaim herself as the Guardian of Biltmore, friend of Braeden, daughter of her Pa, and heroine of the Blue Ridge Mountains and all the folk and creatures that call it home.
In the epic third installment of Robert Beatty's #1 bestselling series, Serafina takes her rightful place among literary champions as she battles fiercely to defend all she loves and become everything that she is meant to be.
Released

Pages

ISBN

Age Range