We're back from St. Louis! (And maybe still a little stuffed from Thanksgiving) where earlier this month we attended the National Council of Teachers of English Annual Conference along with thousands of teachers and school administrators from all over the world. As always NCTE proved to be a whirlwind couple of days. We are incredibly thankful to everyone who stopped by our booth to talk all things Disney Publishing related.
On Friday we kicked-off the convention with a special Miles Morales signing by author Jason Reynolds, making booth 427 the first stop for many eager attendees. Following that authors joined us right after their Funny, You Don't SEEM Educational panel for another packed signing of Bob, Not Bob.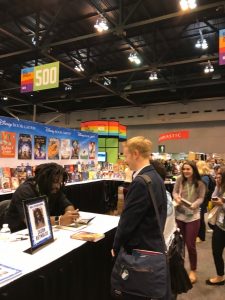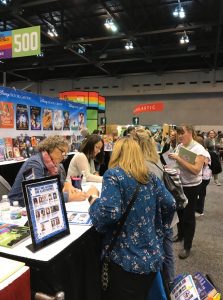 Even Matt De La Pena stopped by to give a few lucky teachers signed copies of Miguel and The Grand Harmony, and our good friend Neal Shusterman delighted his readers with a signing of Book 3 in The Accelerati Trilogy: Hawkings Hallway.
On Saturday Rick Riordan made an appearance as the Keynote speaker for The ALAN breakfast. It was an early start to the day for many. But attendees were treated to teacher's editions of The Lightning Thief, and 100 lucky folks won signed copies of Magnus Chase and The Gods of Asgard Book 3: The Ship of the Dead. Uncle Rick spoke at length about his new imprint, Rick Riordan Presents, and read even an excerpt from the first book.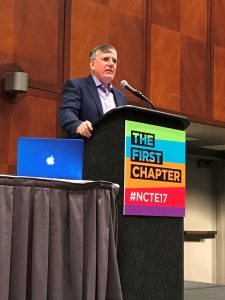 Afterwards Aru Sha and the End of Time author Roshani Chokshi helped us kick off Day Two! signing galley copies of her upcoming inaugural release for The Rick Riordan Presents imprint.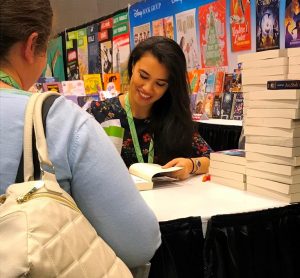 Then authors Dhonielle Clayton and Andrew Shvarts teamed up to tackle another long signing line for their books The Belles and Royal Bastards.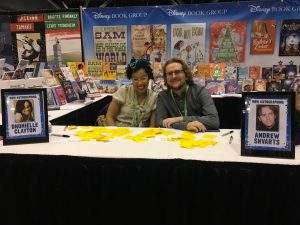 Our NCTE adventure continued well into the afternoon when debut author duo Nick Eliopulos and Zack Loran Clark stopped to sign copies of The Adventurer's Guild following their turn on the Recapture Our Voices: The Joy of the Thing panel earlier that day.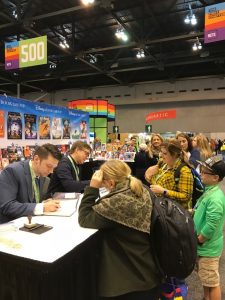 Finally we closed things down Saturday with an appearance by author J.C. Geiger. Folks who braved the long end of day lines were treated to a special doodle and signature inside their copies of Wildman.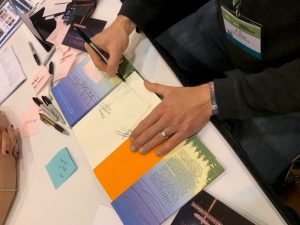 Sunday was the shortest day of the convention and we were lucky to have author Kate Hannigan on hand to sign copies of Cupcake Cousins: Winter Wonders and author Kim Purcell to help us wrap up the weekend with a galley signing of her upcoming YA novel This is Not a Love Letter.
Overall we had a blast at NCTE 2017. Galleys were given out by the box load! Tote bags flew from our tables, and books were on display everywhere we looked! It was a great conference and we can't wait to see you all again soon!