Spring is in the air, and just like the season's freshest blossoms our list of FREE educator guides continues to grow. Perfect for any lesson plans you might need to catch up on over your spring break or handy if you're in need of supplemental material for a popular title in your library's collection. Download some of the recently added guides below or click here for the full list of every free guide out now from DBG .
A standards-aligned guide for grades PK-1 that offers even more fun for readers of this hilarious picture book in the form discussion question to pose to your story time audience both before and after reading this latest release from authors Liz Garton Scanlon and Audrey Vernick and illustrator Matthew Cordell.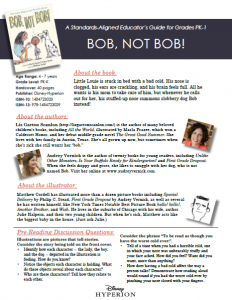 Solider Song: A True Story of the Civil War
A brand new guide to go along with this stunning story from author Debbie Levy and illustrator Gilbert Ford. It is aligned with the College and Career Readiness Anchor Standards (CCR) for Reading (Informational Text), Writing, and Language and an excellent supplement to this true story about the power of music during the American Civil War.
Perfect for discussing all The Feels you and your readers will have experienced during Robin Roe's gripping debut novel. These 10 questions examine what it means to be a friend when faced with overwhelming odds.