National Geographic Readers: Hedgehogs
Level 1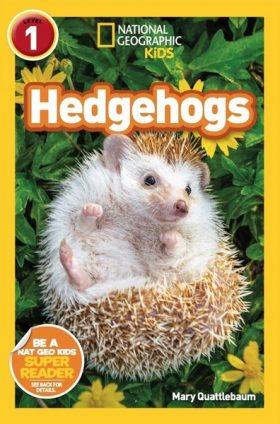 Is it a porcupine? A pine cone with a face? No! It's a hedgehog! Learn all about hedgehogs in this engaging Level 1 reader from National Geographic Kids, now with more than 200 books from Pre-reader to Level 3 in the series.
Packed with adorable photos of spiky, roly-poly hedgehogs, this book teaches kids all about these fascinating creatures, including their amazing features, behaviors, and habitats all over the world. Get an up-close look at a hedgie's spines; learn about its snout, claws, and fur; and follow baby hoglets as they grow. Explore cozy hedgehog homes, trail along as they forage for fruits and insects, and so much more. National Geographic Readers' combination of expert-vetted text, brilliant images, and a fun approach to reading have proved to be a winning formula with kids, parents, and educators.
This level 1 text provides accessible information for animal-loving kids just beginning to read on their own, perfect to encourage the scientists and explorers of tomorrow! 
Released

Pages

ISBN

Age Range