National Geographic Readers: Goats (Level 1)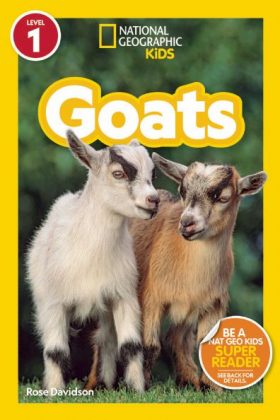 Meet the original greatest of all time animal: the GOAT! Learn all about goats from what they look like, where they live, how they grow up and what they eat (hint: it's NOT tin cans!) in this sweet Level 1 Reader on one of the cutest animals on the planet! 
This Level 1 Reader introduces kids to the different goats of the world. From the furry Angora goat to the Grison's striped goat, early readers discover a goat's different body parts from their horns to their hooves to their amazing abilities to climb rocky cliffs and hop from rock to rock!  This book is a great introduction to the biology of these adorable furry animals!
National Geographic Readers' combination of expert-vetted text, brilliant images, and a fun approach to reading have proved to be a winning formula with kids, parents, and educators. This level 1 text provides accessible information for kids just beginning to read on their own, perfect to encourage the scientists and explorers of tomorrow!
There's no kidding around with this Level 1 Reader that filled with cool facts, hilarious jokes, and funny photos all about goats! 
Released

Pages

ISBN

Age Range