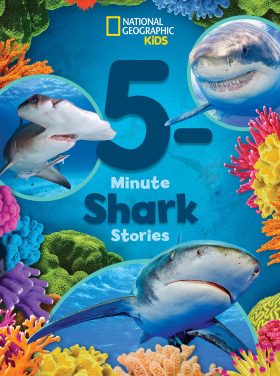 Dive into amazing true tales about baby sharks, surprising shark friendships, daring shark rescues, swimming with sharks, and more about these fierce and fascinating fish.
These 12 fin-tastic true tales about sharks are all the ideal length to be read aloud in five minutes, making them perfect for bedtime, story time, or any time.
Kids come face-to-face with great white sharks, hammerhead sharks, whale sharks, and more as each 5-minute story takes them into the wild world of these incredible creatures. Join National Geographic underwater photographer Brian Skerry as he meets sharks with surprising personalities, and learn all about the king of the sea—the great white shark! Illustrated with colorful photographs of one of the planet's top predators, these awe-inspiring true stories are perfect for any time you're ready for a jaw-some reading adventure. Shark-crazy kids and other animal lovers will want to dip into this collection of true stories again and again!
For more true animal stories from National Geographic Kids, check out:
5-Minute Baby Animal Stories, A Friend for Lakota, National Geographic Kids, 125 True Stories of Amazing Animals
Released

Pages

ISBN

Age Range