Duck and Moose: Moose Blasts Off!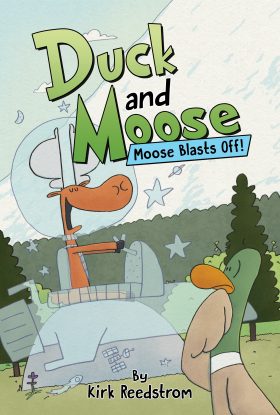 The second book in a laugh-out-loud early graphic novel series perfect for fans of Narwhal and Jelly! Quiet-loving Moose's life is turned upside down by free-wheeling Duck. The two will need to put their differences aside if they're ever going to be neighbors…or friends!
Moose loves playing astronaut. Imagining his helmet, his seatbelt, and rocketing off into space are his favorite things to do! One day, Moose invites Duck to play with him. But there's just one problem—Duck doesn't know how to use his imagination! Moose teaches him but soon becomes frustrated because Duck doesn't play astronaut the "right" way. How will these friends learn how to work—and imagine—together?
Filled with zany hijinks and slapstick humor, Kirk Reedstrom's Duck and Moose series showcases unlikely friendships and the power of compromise.
Released

Pages

ISBN

Age Range