Duck and Moose: Duck Moves In!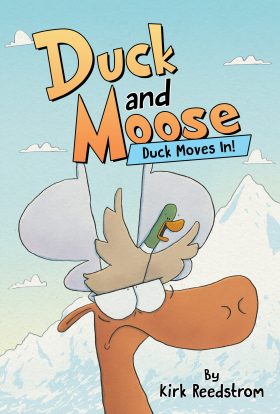 The first book in a laugh-out-loud early graphic novel series perfect for fans of Narwhal and Jelly! Quiet-loving Moose's life is turned upside down by free-wheeling Duck. The two will need to put their differences aside if they're ever going to be neighbors…or friends!
Moose loves peace and quiet, relaxing, living alone, and spring! He can't wait for the arrival of sun, flowers, and…a new neighbor?! Duck just landed himself a new home. He loves parties, karaoke, and living with—and on—Moose's head. Moose tries everything he can to send Duck away, but he soon finds that this persistent neighbor might just be the best thing spring could bring.
Filled with zany hijinks and slapstick humor, Kirk Reedstrom's Duck and Moose series showcases unlikely friendships and the power of compromise.
Released

Pages

ISBN

Age Range