Little Kids First Board Book African Animals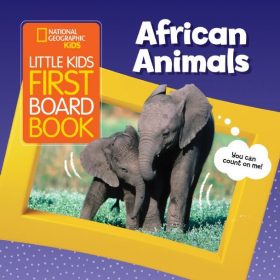 Count along with lions, elephants, meerkats, and more in this colorful book that introduces babies and toddlers to awesome African animals and makes it fun to learn to count!

Little learners are invited to start counting from 1 to 10 on this fun-packed tour through the savanna and jungles of Africa. Each spread introduces a new number and corresponding images of amazing African animals along with super-simple facts. Toddlers will be delighted by the variety of wild creatures featured and ready to learn.
Designed to be the stepping stone to the best-selling National Geographic Little Kids First Big Book series, the Little Kids First Board Book series takes similar subjects and distills them down to the simplest nonfiction concepts for the youngest audience.
With their square shape, bright and playful design, awesome photography, clear text, and cues to encourage interactive learning, the Little Kids First Board Books mirror the beloved First Big Books while taking a fresh new approach to excite a baby's sense of wonder and make learning about nature and science fun.
Released

Pages

ISBN

Age Range