My First Disney Classics: A Christmas Carol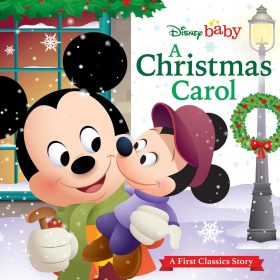 Introduce your little one to this timeless classic about the true spirit of Christmas alongside Mickey and his friends!
This retelling of Charles Dickens's beloved Christmas classic is full of the baby-friendly faces of Mickey and his pals and baby-friendly themes, like kindess and sharing. Prompts on the page will encourage toddlers to engage with the story as they count the gold coins on Scrooge's desk or name the colors on the Christmas tree.
With simple text, bright illustrations, and sturdy pages, this 24-page board book is perfect for cultivating your little one's love of literature.
Consider adding these other Disney books to your collection:
My First Disney Classics Bedtime Storybook
My First Disney Classics The Legend of Sleepy Hollow
Ariel Loves the Ocean First Word Book
Twinkle, Twinkle, Little Star
Say Please, Stitch!
Released

Pages

ISBN

Age Range