All Is Found
A Frozen Anthology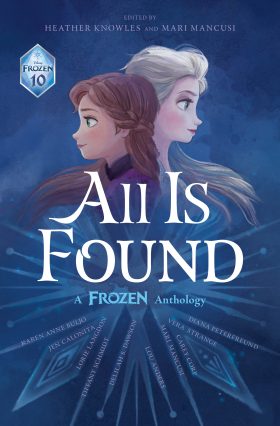 Just in time to celebrate the first decade of the Frozen franchise, we join Anna, Elsa, Kristoff, Sven, and Olaf as they embark on new adventures through the Frozen universe with friends new and old.
This wide variety of original stories will share untold tales from Anna and Elsa's childhood, memories with their parents, and mysterious creatures they encounter. These highly relatable, yet larger than life characters will appeal to young Frozen fans as well as the Frozen fan in all of us.
In this exciting anthology, ten authors–for the ten years of Frozen–bring stories from this special kingdom to life.
Authors:
Lou Anders
Karen Anne Buljo
Jen Calonita
Carey Corp
Delilah S. Dawson
Lorie Langdon
Mari Mancusi
Diana Peterfreund
Tiffany Schmidt
Vera Strange
Released

Pages

ISBN

Age Range