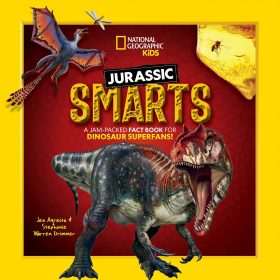 Kids will earn a PhD(inosaur) degree with all the supercool, cutting-edge dino data they crave jam-packed into this tiny,  T-rex-errific tome!
Inside, they'll discover game-changing fossil finds, surprising dinosaur stats, and a fascinating variety of prehistoric creatures in
all shapes and sizes—some totally bizarre!Encounter gentle, long-necked giants; toothy carnivores; and dinosaurs with all sorts of incredible adaptations, like vibrant feathers, massive horns, spikey battle-ax tails, and beyond! Get answers to burning dinosaur questions, like… How do we know what colors dinosaurs were? And, gulp, could you have outrun a T. rex? Meet paleontologists digging up incredible discoveries in the field today, explore dino-themed travel destinations, find out which prehistoric creatures would win big in an eating competition, and way, WAY more.
This quirky, info-packed book is a feast for the eyes, with stunning illustrations and fossil photos on every page, a colorful design, and bonus fun facts sprinkled throughout. It's the perfect book for experienced dino devotees and newcomers alike.
For more dinosaur awesomeness from National Geographic Kids, check out these books: Weird But True! Dinosaurs; Ultimate Dinopedia, 2nd Edition; Dinosaur Atlas; and How to Survive in the Age of Dinosaurs.
Released

Pages

ISBN

Age Range