National Geographic Readers: Sharks!
100 Fun Facts About These Fin-Tastic Fish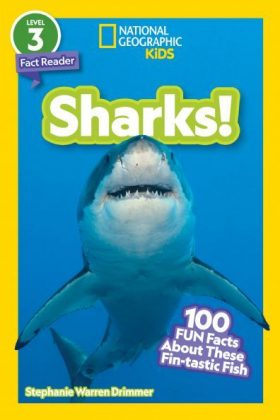 Sharp teeth and pointy fins—look out! It's a shark! Learn all about these fascinating predators in this jam-packed Level 3 Fact Reader from National Geographic Kids, now with more than 200 books in the series from Pre-reader to Level 3 in the series.
From great whites and sawfish to hammerheads and tasseled wobbegongs, sharks rule Earth's oceans. Discover all about their incredible hunting skills, amazing teeth, awesome adaptations, and more in this accessible collection of 100 weird-but-true facts and engaging text. Learn about angel sharks that can kill prey in one-tenth of a second, Greenland sharks that can live for more than 400 years, lantern sharks that glow in the dark, and more wild stuff about one of the world's most feared, fascinating, and vital-to-the eocosystem's creatures.
National Geographic Readers' combination of expert-vetted text, brilliant images, and a fun approach to reading have proved to be a winning formula with kids, parents, and educators.
This Level 3 text provides accessible information for animal-loving kids beginning to read independently—perfect to encourage the scientists and explorers of tomorrow!

About the series: This high-interest, educationally vetted readers series features magnificent National Geographic images accompanied by text written by experienced, skilled children's book authors. Each reader includes a glossary and interactive features in which kids get to use what they've learned in the book. Level 1 readers reinforce the content of the book with a kinesthetic learning activity. Level 2 readers feature slightly higher-level text and additional vocabulary words. Level 3 readers have more layers of information to challenge more proficient readers. For emerging readers, the Pre-reader level introduces vocabulary and concepts, and the Co-reader level provides a collaborative reading experience.
Praise for National Geographic Readers: "Reliable in format and solid in execution, this series works well to introduce children of varying levels of reading comfort to nonfiction and research formats." —Maggie Reagan, Booklist
Released

Pages

ISBN

Age Range