Zeus the Mighty: The Trials of Hairy-Clees
Book 3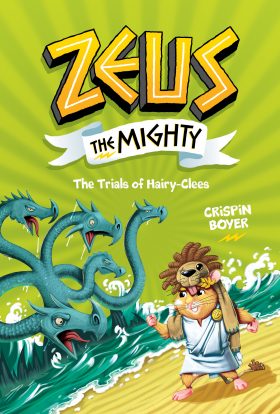 Our story begins with a challenge: The Trials of Hairy-Clees are only for the bravest and most awesome gods of all. Who among them will become the ultimate champion?
The pets of Mount Olympus Pet Center are a true team: They conquer epic quests as easily as Ares the pug scarfs down Mutt Nuggets and they vanquish enemies who are pricklier than the spines on Poseidon the pufferfish. But when a chicken named Hermes shows up one day, things take a turn, and before the team knows it, the Oracle has spoken and the mysterious Trials of Hairy-Clees begin! Who will become top god? And can Zeus learn to share the limelight to fight alongside Hermes?
Join Zeus the overconfident hamster, Athena the wise cat, Ares the treat-loving pug, Poseidon the proud pufferfish, and Demeter the loyal grasshopper on another laugh-out-loud adventure through Greek mythology.
Released

Pages

ISBN

Age Range