Zeus the Mighty: The Voyage on the Oddest Sea
Book 5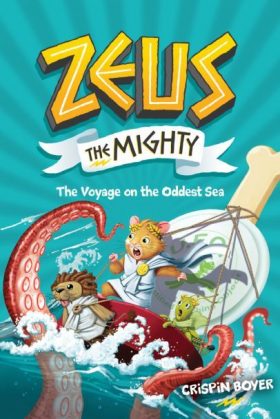 Plunge into stormy waters with Zeus the hamster and his gaggle of gods as they meet a shape-shifting soothsayer and uncover the mysteries of the deep in the spellbinding fifth book in this hilarious romp through Greek mythology.

After an earthquake rocks the Aegean Sea, Zeus and Demeter set sail in a not-so-seaworthy vessel to find out what really happened. When their ship is capsized by a slithering sea monster, the duo find themselves trapped in a mystifying underwater realm. The other Olympians mount a rescue mission, only to encounter enchanting mermaidlike creatures with hypnotic songs and a tentacled shape-shifter who tells tales of the future. His uncanny abilities make the Olympians question themselves—and each other. Can the god squad stick together, or will the strange currents of this underwater world tear them apart?
Join Zeus the overconfident hamster, Athena the wise cat, Ares the treat-loving pug, Poseidon the proud pufferfish, Demeter the loyal grasshopper, and Hermes the daring chicken on another laugh-out-loud adventure through Greek mythology.
Released

Pages

ISBN

Age Range