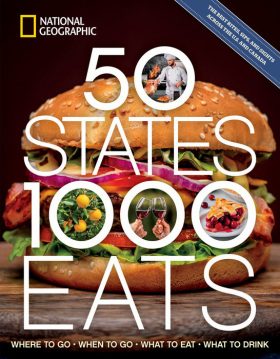 This dazzling culinary guide will reveal the tastiest treats and best food experiences across all 50 states (and Canada), featuring thousands of expert travel tips and hundreds of mouthwatering images from National Geographic.
Hot on the heels of the bestselling 50 States, 5,000 Ideas, this beautifully illustrated food guide from National Geographic takes you across the country with 1,000 of the best bites and sips in every state. From must-have diner breakfasts and food trucks to can't miss farm-to-table dinners and apple farms, where you'll find the best cider, this book has a flavor and food experience for every type of traveler, from road trip warriors to families to foodies of the first degree.
Filled with the best dishes in every state—think crab cakes in Maryland, Chicago-style hot dogs in Illinois, and wine in Oregon's Willamette Valley—you'll discover the regional delicacies that make up the great tastes of the United States and Canada. Plus, get expert advice on where to find the top meals at local establishments, popular food festivals, and activities to pair with your chosen dish.
On your mouthwatering tour, you'll discover:
The origins of Alabama's famous white barbecue sauce
The world's largest food festival, Taste of Chicago, held in Grant Park each summer
The ultimate whiskey distillery in the most unlikely of places: Park City, Utah
The ins and outs of North Carolina's Eastern- and Lexington-style barbecue
The Northeastern seaboard's finest lobster rolls
The Native American and Hispanic roots of New Mexico's most iconic dishes
The secrets of Portland, Oregon's craft brew scene
The iconic Juicy Lucy burger in Minneapolis, Minnesota
How to navigate Manitoba's celebrated Sugaring Off syrup harvest
And so much more!
Comprehensive and inspiring, 50 States, 1,000 Eats provides everything you need to find your next great bite.