5,000 Awesome Facts About Animals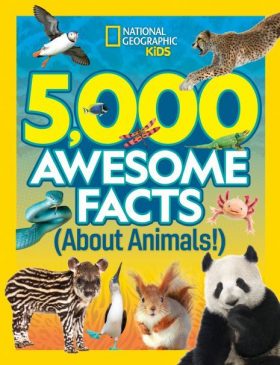 Did you know that a grizzly bear's bite is strong enough to crush a bowling ball? Or that a breed of dog yodels instead of barking? How about that wombat poop is cube-shaped?  
Bursting with fascinating, fun-tastic facts, this treasure trove of all things animals leaves no habitat unexplored or unusual animal ability unmentioned! Ever wonder how smart a chicken is? Why a tiny island is home to thousands of venomous snakes? What sound a rhino makes when it's happy? Find these answers and 4,997 more in this captivating and colorful collection!
Featuring vibrant photography and a bold, eye-catching design, this treasure trove is perfect for both the casual browser and the truly fact-obsessed!
Released

Pages

ISBN

Age Range