National Geographic Walking Venice
2nd Edition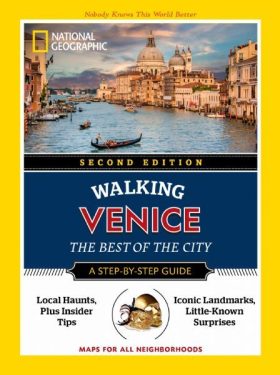 The world's great cities are showcased in this exciting National Geographic series presenting must-do neighborhood itineraries, insider tips for visiting recommended sights, and indispensable information for the most enjoyable urban adventure imaginable.
National Geographic Walking Guide Venice leads readers through the six districts (sestieri) of Venice, each with its own specific identity. Overlooking the Grand Canal, San Marco and San Polo are the ancient administrative and trading centers. North of San Polo, Cannaregio was the old Jewish quarter; Santa Croce, to the west, has the most beautiful churches in Venice. Dorsoduro, southwest of San Marco, is known for its art galleries, while Castello, to the east, was the city's maritime center.
The six chapters each open with an introduction followed by a map of the itinerary highlighting the route's stages and providing detailed information on the various sites. Each visit to the district is supplemented by an in-depth "In Detail" section, aimed at an important site; a "This Is Venice" section, which provides information on a characteristic element of the neighborhood; and one "The Best" section, which groups the best sites by theme.
CUSTOMIZED TOURS: The guide provides nine tailor-made tours, including everything from shopping, food and wine tastings, and evenings at the opera; admiring the facades of the buildings reflecting on the Grand Canal; day or weekend timelines to help you get the most out of a destination; and highlights for art lovers, good food and wine, and travellng with children.
Released

Pages

ISBN

Age Range