Cave of Bones
A True Story of Discovery, Adventure, and Human Origins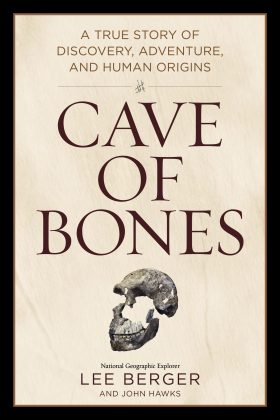 In the summer of 2022, Lee Berger lost 50 pounds in order to wriggle though impossibly small openings in the Rising Star cave complex in South Africa—spaces where his team has been unearthing the remains of Homo naledi, a proto-human likely to have coexisted with Homo sapiens some 250,000 years ago. The lead researcher on the site, still Berger had never made his way into the dark, cramped, dangerous underground spaces where many of the naledi fossils had been found. Now he was ready to do so.
Once inside the cave, Berger made shocking new discoveries that expand our understanding of this early hominid—discoveries that stand to alter our fundamental understanding of what makes us human.
So what does it all mean?
Join Berger on the adventure of a lifetime as he explores the Rising Star cave system and begins the complicated process of explaining these extraordinary finds—finds that force a rethinking of human evolution, and discoveries that Berger calls "the Rosetta stone of the human mind."
Released

Pages

ISBN

Age Range