Art of Coloring: Disney 100 Years of Wonder
100 Images to Inspire Creativity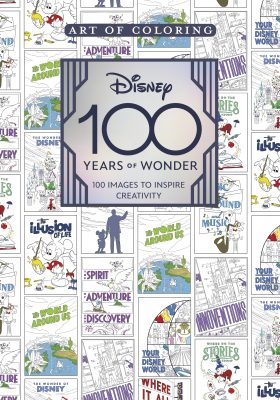 The Walt Disney Company honors its 100th anniversary in 2023. As part of the festivities, this must-have adult coloring book offers a fun and familiar look at everything Disney—past, present, and future.

Part of the Art of Coloring series, which has sold over 2 million copies across the U.S.
On October 16, 1923, Walt Disney and his brother Roy founded what we now know to be The Walt Disney Company. Walt's passion and vision continues to inspire creative development across the company. As a result, Disney characters—and their stories—have touched the lives of generations of fans. This stunning collection of illustrations features memorable characters, favorite icons, and visual surprises at each page turn. Thoughtfully curated by the staff of Walt Disney Archives, these images are ideal for taking pencil to paper and adding your own brand of color and style. Disney theme park concept art, posters, and maps join with Disney movie art and playful vintage coloring book pieces to draw out the inner artist in every Disney fan, cultivating relaxation and focus.
Released

Pages

ISBN

Age Range