Big Moe's Big Book of BBQ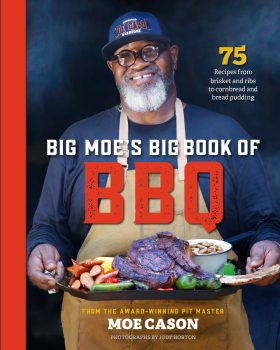 In this mouthwatering debut cookbook, pit master Moe Cason—the winner of more than 250 barbecue competitions—shares 75 of his family-favorite recipes, from his beloved brisket to his world-famous mac 'n' cheese.
Winner of more than 250 national and international barbecue competitions, "Big Moe" Cason is the country's undisputed king of brisket and pitmaster extraordinaire. In his debut cookbook, he reveals the secrets of creating amazing flavor with fire and smoke.
The 75 mouth-watering recipes gathered in these beautifully photographed pages showcase a breadth of time-tested techniques and recipes, from smoked bone-in-Tomahawk steak to a 14-hour turkey brine. And let's not forget the sides! Savor a secret-ingredient mac-n-cheese that wowed Steve Harvey, enjoy a generations-old family recipe for sweet-and-savory cornbread, and get a taste of perfectly seasoned collard greens. Cason offers expert guidance on working with different types of smokers and grills, filling the pantry with time-tested spice rubs and marinades, selecting the perfect cut of meat, and more. Recipes include:
Fall-apart tender Texas Full Brisket
Sweet and Spicy Baby Back Ribs
Smoked Pork Shoulder
Hawaiian Burger Patties with pineapple, soy sauce, and feta cheese
Spicy Mac-n-Cheese
Collard Greens
Cornbread
Homemade Black-Eyed Peas
Filled with unique and flavorful recipes, this delectable cookbook will help you unlock the secrets of amazing BBQ flavor.