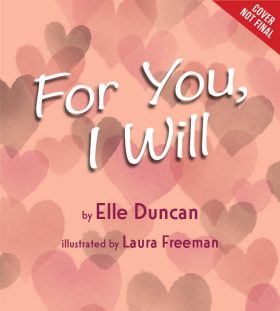 ESPN SportsCenter anchor Elle Duncan and Corretta Scott King Illustrator Honoree Laura Freeman team up in this moving ode to Duncan's daughter that will resonate with mothers and daughters everywhere.
I will wrap my arms around you, so you will know comfort.
And when you're ready to leave, I'll be brave enough to let you go.
I will stand steady while you find your footing.
I'll walk tall while you find your stride.
For you, I will.
Inspired by Elle Duncan's contribution to The Undefeated's "Love Letters to Black Women" segment, For You, I Will is an intimate yet universal celebration of growing up. The poetic text and heartwarming illustrations depict a mother teaching her daughter how to be confident, how to be a part of a community, and, ultimately, how to be unapologetically herself.
Perfect for Mother's Day, birthdays, and baby showers, For You, I Will's tender message expresses all the feelings that come with parenthood and watching your little one grow up.
Released

Pages

ISBN

Age Range

Illustrated By