Beach Bummer
(A Little Bruce Book)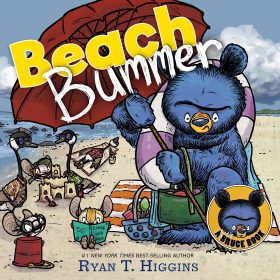 Check Out the Series Page!
#1 New York Times best-selling author Ryan T. Higgins celebrates the delights of summer in this bite-sized Little Bruce Book perfect for fans of Mother Bruce.
It's beach day in Soggy Hollow! Everyone is enjoying fun in the sun – everyone, that is, except for Bruce. It's too hot, too sandy, and too windy! Bruce's favorite thing about summer? Doing nothing. In the shade. Where it's cool. Bruce's second favorite thing about summer? When it turns to fall.
Read the other Little Bruce Books!
Spring Stinks
Thanks for Nothing!
Out Cold
Released

Pages

ISBN

Age Range