National Geographic Traveler: Washington, DC, 6th Edition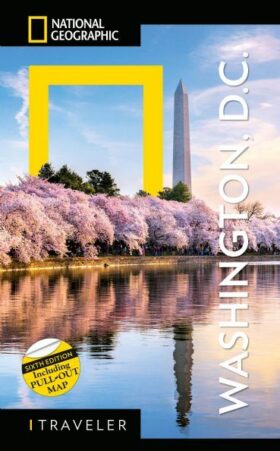 Discover the best of the nation's capital in this trusty travel guide to Washington, D.C. treasures including itineraries for visiting hidden gems, iconic monuments, and world-renowned museums. National Geographic Traveler Washington, D.C. is a window onto the innumerable treasures of the United States capital and a must-use guide for every visitor. With an introduction on the lifestyle and history of the institutions of the United States, as well as its modern culture, this is an all-you-need-to-know resource about one of the most iconic cities in the world. Throughout, find detailed information about the city's main attractions, including the Capitol, the White House, and the National Mall with its wealth of monuments and museums. Packed with ideas for well-known and beloved destinations as well as hidden gems and locals-only hot spots, this guide provides everything you need to create an itinerary that includes:
A legendary walking tour of Georgetown, President's Park and the White House area, Dumbarton Oaks and its splendid gardens
The best times to visit the popular selection of 17 Smithsonian museums
Bustling Eastern Market with new top-tier restaurants
Popular weekend brunch spots
Cedar Hill, the former residence of Frederick Douglass
And so much more!
In this fully updated edition, you'll also find walks that will help you learn about each area of D.C., and a myriad of cultural wealth including museums, galleries, theaters, and even the famous Library of Congress, home to the largest international collection of books and documents in the world. Based on personal and professional experience, the photographers and travel experts at National Geographic provide in-depth descriptions of the city's best attractions, as well as all the information you need to get the most out of your visit to each of them.
Released

Pages

ISBN

Age Range