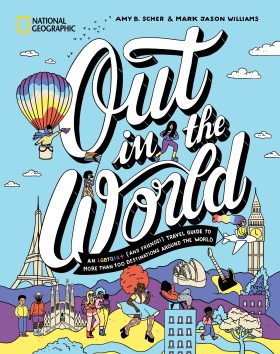 Meet the first totally inclusive guide for every traveler out there! In this inspiring guidebook, readers will discover 100 welcoming destinations where LGBTQIA vacationers and their allies will feel safe, comfortable, and ready to make the most of their experiences.
Full fun and practical travel information, this comprehensive guidebook takes you from familiar destinations like Ojai, California, long-known for its inclusivity, to surprising spots like Eureka, Arkansas, a small town that has been welcoming to the LGBTQIA community for decades.
With an eye towards memorable and meaningful experiences, each destination highlights what to see, where to eat, and where to stay—without focusing solely on gay bars and pride parades. Each robust itinerary—a guide to Curaçao's beaches, Christmas in the Cotswolds, or a kitschy trip to Dollywood—provides all the information needed for a well-rounded vacation that also supports local LGBTQIA communities. With personality-focused chapters such as "Romantic Rendezvous," "Boozy Trips and Trails," and "Fun Haunts and Spooky Spirits" there is a destination in these pages for every type of traveler. Veteran travel writers Amy B. Scher and Mark Jason Williams offer can't-be-ignored advice, including how to plan, ways to be safe while traveling, and important customs to honor while touring abroad.
Here, at last, is the LGBTQIA guidebook you've been waiting for—and one that will inspire you to make that bucket list and go Out in the World!