Poster Art of the Disney Parks, Second Edition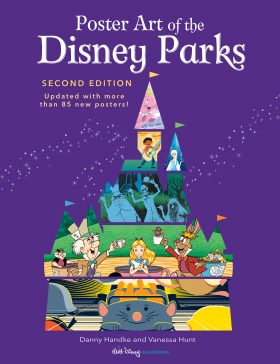 An expanded and updated second edition of the stunning collection of posters from Disney theme parks around the world! Features more than 85 new posters and concept art pieces and a lively narrative about their behind-the-scenes development.

Disney attraction posters have been an important means of communication since Disneyland began displaying them in 1956. These eye-catching pieces of artwork adorn the parks with flair and style, and are displayed to build excitement and disseminate information about the newest additions to the Disney landscape. As evidenced by the evolution of the attraction posters, art styles and design techniques have certainly changed over the years. These characteristics also differ from continent to continent. Posters from EPCOT, Tokyo Disneyland, Disneyland Paris, Hong Kong Disneyland, and Shanghai Disneyland exhibit the nuances in presentation that give each park's pantheon of posters its signature look and story.
This expanded and updated second edition is a must-have for anyone who loves the original book, for Disney collectors, and for students of the arts. Find inside:
An incredible collection of original attraction posters from Shanghai Disneyland
The extensive and graphically bold collection of EPCOT posters first unveiled at D23 Expo 2019
Posters featuring attractions and lands inspired by storytelling from Pixar, Star Wars, and Marvel
A variety of vibrant voices quoted throughout the book, with interesting insights about the development of the posters over the years and the interconnection among art, typography, and graphic design–Disney style.
Released

Pages

ISBN

Age Range