Practically Poppins in Every Way
A Magical Carpetbag of Countless Wonders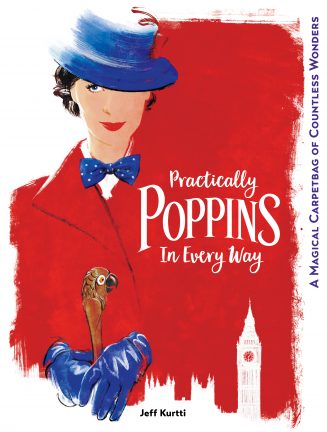 Practically Poppins in Every Way is sumptuous, colorful, and remarkable celebration of Mary Poppins in her many incarnations, and a colorful and lavish showcase of the varied art and creative forces who have brought her to life, generation after generation.
Ever since 1934, when Mary Poppins descended from the skies over London into Cherry Tree Lane in the beloved book by P. L. Travers, the world has adored the enchanting adventures and peculiar wisdom of this magical nanny. For more than eight decades, Travers's staunch but charming heroine has been beloved in the pages of eight popular books—and in media—from movies to stage, and music to television, all around the world.
Now Mary Poppins has come to light up cinema screens again in a magical, musical new incarnation, Mary Poppins Returns. From the Walt Disney Studios, this film is a colorful and charming new story—a sequel to the 1964 classic—featuring an all-star cast and brought to life by a stellar creative team. In Depression-era London, a now-grown Jane and Michael Banks, along with Michael's three children, are visited by the enigmatic Mary Poppins following a personal, grievous loss. She's back just in time. And through her unique magical skills and presence, plus the aid of her friend Jack, Mary helps restore for the troubled family the joy and wonder that's been lost in their lives. Every incarnation of Mary Poppins has had at least one thing in common: she's always arrived out of the blue, though the stay is for an all-too brief period of time—until the wind changes or the chain breaks—whereupon she flies away again for, as Pamela Travers put it, "Apparently . . . nowhere." Practically Poppins In Every Way is a showcase of the varied creative forces that have brought Mary Poppins to life, generation after generation. It is accompanied by erudite and informative text, essays, and observations by creative luminaries such as Cameron Mackintosh, Thomas Schumacher, Gavin Lee, and John Myhre, as well as renowned Disney authorities Brian Sibley, Jim Fanning, Paula Sigman Lowery, Craig D. Barton, and Greg Ehrbar. This colorful and lavish showcase is a rich, vivid, and frequently surprising visual document of the development behind the stories of Mary Poppins on the page, screen, and stage. Treasures collected by the Walt Disney Studios, the Walt Disney Archives, the Walt Disney Archives Photo Library, the Walt Disney Animation Studios Research Library, the Disney Publishing Archives, and Disney Theatrical Group abound throughout the book. Practically Poppins in Every Way is a magical carpetbag containing countless wonders and "a bit o' magic" that will captivate, inform, and entertain readers of all ages.
Released

Pages

ISBN

Age Range