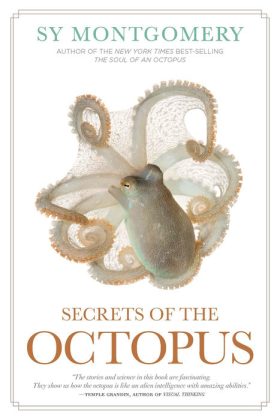 By the beloved author of bestseller Soul of an Octopus and graced with the best of National Geographic photography, this book reveals new science and remarkable discoveries about the octopus, one of nature's most elusive and intelligent animals.
Companion to the three-part National Geographic television special, this book explores the alluring underwater world of the octopus—a creature that seems almost an alien life form but whose behavior suggests it is one of the most intelligent on the planet.
Learn how the large and capable brain of these creatures occupies their whole body, and how scientists are learning that an octopus can actually adjust its genetic makeup to respond to the demands of the environment. Watch these alluring creatures change shape and color, camouflaging more effectively than any other species. Witness octopus mothers giving their all in order to bring forth a new generation. Through illustrated portraits, meet more than a dozen of the 300-some cephalopod species, each with a personality and behavior all its own.
Now writer and 'octopus whisperer' Sy Montgomery—legendary author of more than 30 books about animal behavior and known best for her bestselling narrative, The Soul of an Octopus—joins with National Geographic and returns to the species she knows and loves, offering current science and compassionate stories from the front lines of octopus research and conservation.
For all animal lovers, especially those drawn to this magical marine being, this will be a book to linger on for a long time, thanks to one-of-a-kind imagery, bold new findings, and charming storytelling.