Star Wars: The High Republic: Light of the Jedi
YA Trilogy Paperback Box Set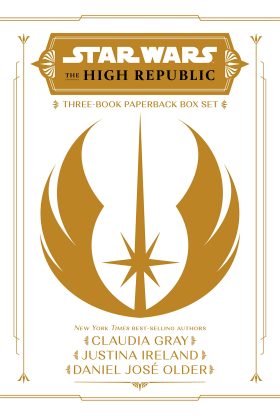 From the New York Times best-selling series, this box set features all three young adult novels from Phase I of The High Republic. Available in paperback for the first time with all new cover art, this collection is perfect for newcomers and existing fans. For light and life!
Two hundred years before the events of The Skywalker Saga, in the era of the glorious High Republic, the Jedi are the guardians of peace and justice in the galaxy. Follow the adventures of Jedi Padawans Reath Silas, Vernesta Rwoh, Ram Jamoram, and a host of valiant heroes as they deal with a threat unlike the Jedi or the Republic have ever faced before.
This boxed set is the ultimate gift for both fans who want to devour the stories again or dive into The High Republic era for the very first time.
Released

Pages

ISBN

Age Range