Hawkeye: Bishop Takes King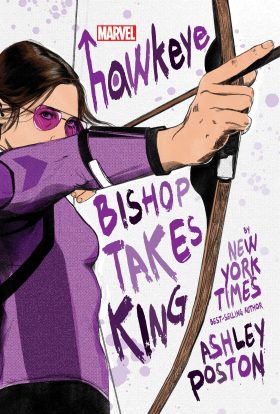 Kate Bishop's Hawkeye is still figuring out how to be a Super Hero—and a functioning human being—in this thrilling YA mystery adventure that has her crossing paths with some of the Marvel Universe's greatest heroes—and most dangerous villains.
When Kate Bishop, the young Hawkeye, solves a minor crime and saves the surprisingly cute Milo in the process, she counts it as a rare win. But a mix-up of their bags means that nope, Kate's life is still refusing to run smoothly. In that bag is a mysterious book that holds powerful, dangerous secrets—ones that New York City's most powerful super villain, the Kingpin, would kill to uncover.
Kate finds herself on the run, searching for Milo and what he knows, texting her Super Hero besties for moral support, and trying to solve the mystery she's blundered into before she becomes the victim of her own story.
Just like its main character, Kate Bishop, Ashley Poston's Super Hero adventure doesn't miss a single shot in one of the funniest, twistiest Marvel stories ever told.
Released

Pages

ISBN

Age Range