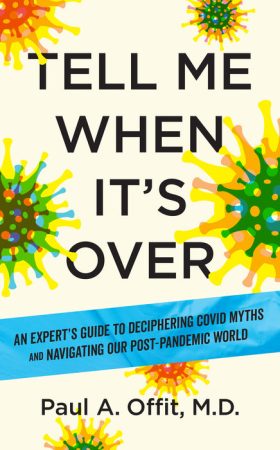 Today, as the Covid-19 pandemic evolves, people have started to throw away their masks, gather in large indoor settings, use mass transportation, and start returning to normal life. But the fact remains that 9 million Americans are immune-compromised, and at least 60 million have refused to be vaccinated. Moreover, while Covid vaccines are remarkable at preventing severe disease, they aren't very good at preventing mild or asymptomatic infections.
This means SARS-CoV-2 isn't going to disappear anytime soon. The virus will continue to circulate throughout the United States and the world, mutate, generate contagious variants, and cause harm for years if not decades. So how will we live with Covid now?
Dr. Paul Offit will help weary readers address that crucial question. As a member of the FDA Vaccine Advisory Committee and a former member of the Advisory Committee for Immunization Practices to the CDC, Offit has been in the room for the creation of policies that have affected hundreds of millions of people. In this comprehensive guide, he will show us where we've been, where we are, and where we're heading, addressing fundamental issues like boosters, masking, vaccine mandates, immunity induced by natural infection, and what it means to be fully vaccinated. He will also zero in on how to treat long Covid, whether Covid vaccines should be given every year, when to use antivirals, and whether we should strive to prevent all symptomatic illness, not just serious disease.
Comprehensive and pragmatic, TELL ME WHEN IT'S OVER is a beacon for anyone interested in finding new solutions to the new normal.