The Sugar Plum Bakers
And the 12 Holiday Treats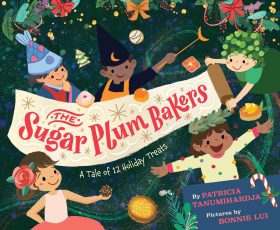 What's a holiday without holiday treats? In this magical new picture book, kids follow the Sugar Plum Fairy, the Gingerbread Man, and their team of bakerinas as they create delicious goodies from around the world—and discover that the real magic is teamwork.
With a pinch of hope and a dash of zing, we can do anything! The bakerinas are hard at work creating holiday goodies for kids around the world when a blizzard whips up trouble. Will the bakerinas deliver their treats in time?
With enchanting illustrations and charming text, The Sugar Plum Bakers introduces young readers to tasty treats from around the world—and even includes a recipe in the back so kids can make some magic of their own.
Released

Pages

ISBN

Age Range

Illustrated By