The (Super Secret) Octagon Valley Society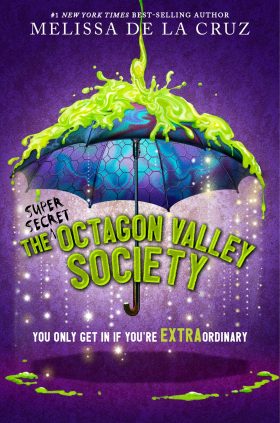 You only get in if you're EXTRAordinary….
Every year, every sixth grader in the nation sits for the Octagon Valley Assessment of the Extraordinary. And every year, only a handful of students are chosen to attend an exclusive weekend at the Octagon Valley Institute, the mysterious, high-tech lab of the uber famous multimillionaire, genius, recluse Onassander Octagon. What do they do there? No one ever tells. Which just makes everyone want to get in.
Edwin Edgefield has high hopes for the weekend—hopes he'll meet other kids like him—kids who will accept him even though he's got a photographic memory, genius level math skills and some very specific personality quirks. But when he meets the other kids who have been chosen, he starts to wonder if they're all in the right place. There's amateur rapper Kimmy, who's obsessed with TikTok, violin-player Julie, who has zero social skills, and surfer dude Dilip, who's well, a surfer dude. And then, strange things start to happen. Things that involve an escape room challenge, a zero-gravity chamber, a river full of piranhas and . . . some ninjas? Turns out the Octagon Valley is all about using teamwork to make the dream work, and these normally isolated kids might not all survive. But those who do will be treated to the greatest prize—and the biggest surprise—of their lives–a chance to be truly EXTRAordinary.
Released

Pages

ISBN

Age Range