Walt Disney Animation Studios Artist Showcase: No Slurping, No Burping!
A Tale of Table Manners | A Read-Along eBook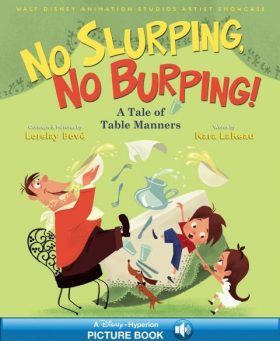 Evie and Simon always mind their manners.  But sometimes, they have to mind their father's, too!  In this humorous spin on manners books, two kids teach their father everything he needs to know about mealtime etiquette.  Everything is going well, until a surprise visitor arrives for dinner!  Will Father be able to remember all of Evie and Simon's lessons? With humor, charm, and a dash of silliness, No Slurping, No Burping! uses role reversal to show young readers how to be considerate guests at mealtime.
Released

Pages

ISBN

Age Range

Illustrated By