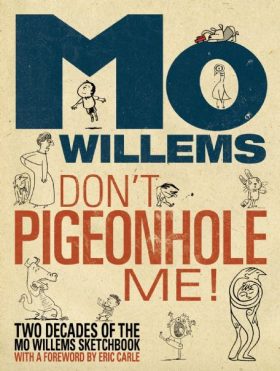 Young readers first met the Pigeon, a beleaguered bird desperate for a shot behind the wheel of a bus, in 2003. Don't Let the Pigeon Drive the Bus! went on to sell millions of copies, receive a Caldecott Honor, and spawn additional picture books, apps, games, and even silly bands. But did you know the Pigeon was born many years earlier in the pages of a sketchbook?
In Don't Pigeonhole Me! Two Decades of the Mo Willems Sketchbook, readers are given a rare glimpse into the mind of the man the New York Times described as "The biggest new talent to emerge thus far in the '00s." Since he was a teenager, Mo has been creating characters and scribbling ideas in the pages of sketchbooks. In the early 1990s, he started self-publishing collections of his drawings, and The Mo Willems Sketchbook was created. What began as a calling card for his work has morphed over the years from a form of therapy, to an opportunity to explore and experiment, to a gift for friends and loved ones. But these sketchbooks have always been (and continue to be) the well from which Mo draws ideas and inspiration.
Featuring a foreword by Eric Carle and an introduction by Mo, this volume includes all twenty sketchbooks from the last two decades. Don't Pigeonhole Me! reveals the author/illustrator at his most truthful, most experimental, most grown-up. Most Mo. Want to know where ideas come from? Look inside.
Released

Pages

ISBN

Age Range

Illustrated By