Feather and Flame
The Queen's Council #2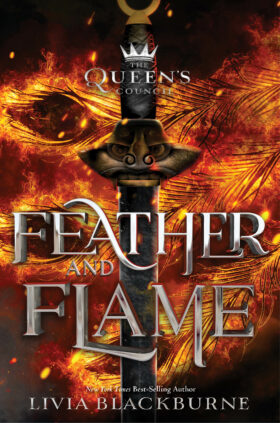 Happily ever after is only the beginning in this epic YA reimagining of the princesses as young rulers of their lands, aided by a mystical group of women called the Queen's Council, whose job is to advise queens throughout history. 206 BCE-900 CE China during the Han and Tang Dynasties: Before his death, the aging Emperor decreed that Mulan would take the throne, having shown what it takes to be a leader. When he dies, she becomes the Warrior Empress, leader of her people and her army as they fight to keep power from falling into the hands of enemies.
She brought honor on the battlefield. Now comes a new kind of war… The war is over. Now a renowned hero, Mulan spends her days in her home village, training a militia of female warriors. The peace is a welcome one, and she knows it must be protected. When Shang arrives with an invitation to the Imperial City, Mulan's relatively peaceful life is upended once more. The aging emperor decrees that Mulan will be his heir to the throne. Such unimagined power and responsibility terrifies her, but who can say no to the Emperor? As Mulan ascends into the halls of power, it becomes clear that not everyone is on her side. Her ministers undermine her, and the Huns sense a weakness in the throne. When hints of treachery appear even amongst those she considers friends, Mulan has no idea whom she can trust. But the Queen's Council helps Mulan uncover her true destiny. With renewed strength and the wisdom of those that came before her, Mulan will own her power, save her country, and prove once again that, crown or helmet, she was always meant to lead. This fierce reimagining of the girl who became a warrior blends fairy-tale lore and real history with a Disney twist.
Find Rebel Rose, the first book in the Queen's Council series, here.
Released

Pages

ISBN

Age Range