One Girl In All The World
Buffy: The Next Generation, Book 2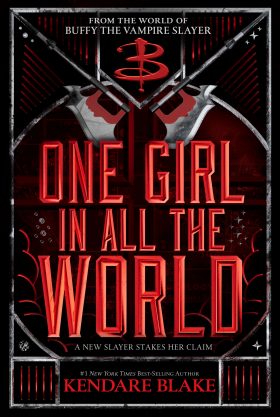 "A worthy successor to the Slayer stories." -Booklist (starred review for In Every Generation)

#1 New York Times best-selling author Kendare Blake returns to New Sunnydale in this sequel to In Every Generation, set in the world of Buffy the Vampire Slayer.
Into every generation, a slayer is born. One girl in all the world . . . maybe.
Frankie Rosenberg is the world's first slayer-witch, but she doesn't have that slay-life balance figured out just yet. After all, being the newest slayer means that another slayer had to die. Frankie and the Scooby gang are still reeling from the deadly explosion that rocked the annual slayer retreat—and grappling with new evidence that some slayers may have made it out alive. And even though they defeated bloodthirsty vampire the Countess, it doesn't mean Sunnydale is free from the forces of evil.
Something has reawakened the Hellmouth—and is calling old friends home. Someone is performing demon magic in the shadows, opening portals between dimensions. Everyone has demons to contend with—of the metaphorical and the very real (occasionally very hot) variety. And an oracle warns of a new evil on its way: the Darkness.
Could this be what attacked the slayers? And is it coming for Frankie?
Released

Pages

ISBN

Age Range