Walt's Apprentice
Keeping the Disney Dream Alive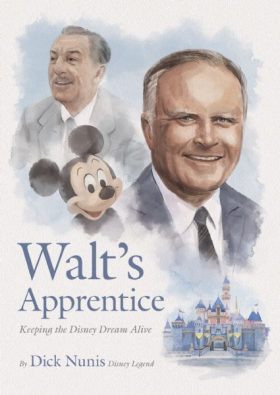 Walt's Apprentice: Keeping the Disney Dream Alive is the memoir of Disney Legend Dick Nunis. It is a warm personal reminiscence of learning directly from Walt Disney for 12 years, followed by more than 30 years devoted to championing his vision and standards as the Disney empire grew.
The story covers Disney's highlights, including the 1960 Winter Olympics, 1964-1965 New York World's Fair, and the development and opening of Disneyland, Walt Disney World, Epcot, Tokyo Disneyland and Disneyland Paris. Unlike other Disney books, this story is told from the perspective of operations rather than Imagineering. It touches on decisions that defined the guest experience and Disney's reputation for quality in areas ranging from capacity and people-moving, training, delivering a consistent "good show," food service, and more.This first-person narrative is presented as a series of wide-ranging vignettes. Some vignettes focus on personal, character-shaping events, such as the injury that ended his collegiate football career. Other stories touch on national events, such as Nikita Khrushchev's derailed visit to Disneyland, the decision to close the park following the assassination of John F. Kennedy, and Ronald Reagan's assistance in expediting the visa process for cast members staffing the Epcot World Showcase. Few people have enjoyed a life so immersed in Disney magic.
These stories share that magic through the memories of one of the original doers and dreamers.
Released

Pages

ISBN

Age Range