Part of Your World
A Twisted Tale Graphic Novel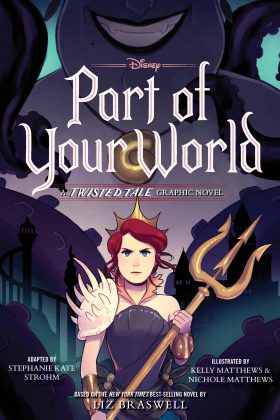 What if Ariel had never defeated Ursula? Discover a new side of The Little Mermaid in this darkly romantic reimagining of the classic Disney film—now available as a graphic novel!
Five years ago, Ariel defied her father, King Triton, and traded her voice for the chance to meet Prince Eric. But when Ursula attacked and defeated Ariel, the sea witch took everything: the little mermaid's voice, her prince, and her father's life. Now, Ariel rules as the silent queen of Atlantica, while Ursula, disguised as a beautiful human woman, runs Prince Eric's kingdom on land.
But when Ariel discovers that her father might still be alive, she finds herself returning to a world—and a prince—she never imagined she would see again.
On land, Ariel learns that Ursula has been making the most of her role as princess: plotting, scheming, and waging outright war with neighboring kingdoms. And after Ursula catches wind of Ariel's resurfacing, she threatens to obliterate both land and sea. Will Ariel be able to overthrow the murderous villain bent on destroying her home—along with the world she once longed to be a part of?
In this adaptation of one of the most popular books in the New York Times best-selling Twisted Tale series, brilliantly adapted by Stephanie Kate Strohm, illustrator duo Kelly and Nichole Matthews breathe new life into this story of power, love, and a mermaid's quest to reclaim her voice.
Released

Pages

ISBN

Age Range