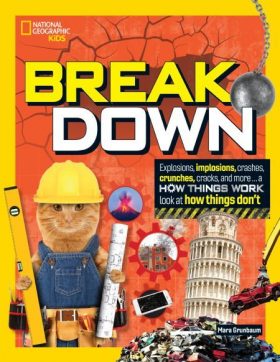 Boom! Crash! Crumble! A wrecking ball smashes into the side of a building, sending pieces flying. It's an awe-inspiring sight. It's also science!
This book explores how things break down, crack, explode, crumple, and shatter. This fun, unique take on a how-things-work book explores the world through the lens of what it takes for things to, well, not work. In these vibrantly illustrated pages, you'll peer through the smoke and rubble of controlled demolitions to discover the properties of building materials. Then get a glimpse of the inner workings of a cracked cell phone screen, peek carefully at mega-avalanches and sinkholes, and hold on tight as wrecking balls swing and car crushers crunch metal. Buckle up with crash-test dummies and travel back in time to explore the world's most famous failures (looking at you, Leaning Tower of Pisa).
Featuring hands-on activities that walk kids through their own experiments in destruction, Break Down! will change the way you look at the world.
Check out the How Things Work video series on the National Geographic Kids YouTube channel! 
Released

Pages

ISBN

Age Range