Epic Journeys: 245 Life-Changing Adventures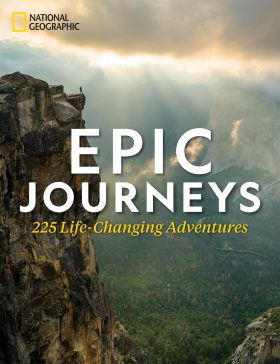 From rafting the Zambezi River's 23 stomach-flipping rapids to hiking the Inca trail and sailing from island to island in Greece, the travel experts at National Geographic reveal the world's best adventures in this stunning–and practical–treasury.
From navigating the class-five rapids of the Colorado River through the Grand Canyon to sandboarding the slopes of a volcano in Nicaragua to dogsledding in the Arctic, this beautiful and comprehensive book offers trips of a lifetime for explorers and adrenaline junkies alike. Filled with more than 300 vivid photographs, this inspirational guide reveals over 225 of the planet's best destinations for hikers, skiers, divers, rafters, and more. You'll also find everything you need to know for the ultimate epic journey: what to see, when to go, and what to do. Combining adventure with cultural experiences–for example, a safari through Madagascar or visiting the ruins of Buddhist temples after sea kayaking the warm waters of Vietnam–this one-of-a-kind collection, complemented by top ten lists and adventurer essays covering everything from the best hiking trails to the top wildlife parks, will lead you to new heights of exploration.
Released

Pages

ISBN

Age Range