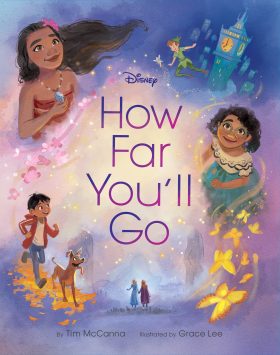 This enchanting, lushly illustrated journey through Disney moments of bravery and resilience offers inspiration for fans of all ages, from recent grads to anyone embarking on a new adventure.
You're on a new adventure!
It's challenging and fun.
You've come so far already, but you've only just begun.
Starting a new journey can be scary. . . But no matter the obstacles you face, with resilience, love, and a sprinkling of magic, who knows how far you'll go! From Peter Pan and Tinker Bell teaching the Darling children to fly, to Moana finding the courage to voyage across the sea, these lush, watercolor scenes from across Disney's 100 years of film will inspire readers to make their own mark on the world.
Brought to life by award-winning illustrator Grace Lee, this book features wondrous scenes from Pinocchio, Alice in Wonderland, Peter Pan, The Jungle Book, Cars, Up, The Princess and the Frog, Frozen, Encanto, Coco, and Moana.
The perfect gift to share with Disney fans for graduation, big milestones, or everyday inspiration!
Released

Pages

ISBN

Age Range